Parker Sanderson Slides In A Goal..ZING!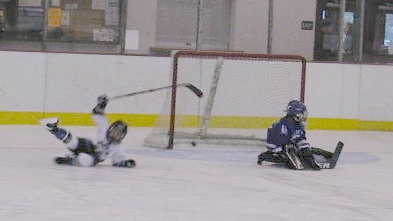 Hop To It....Hurry!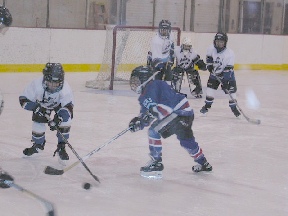 Working Hard ...Playing Their Positions!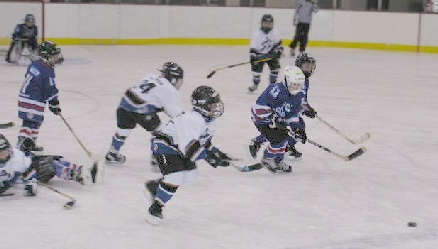 Hugh Farrar Smothers The Puck!
Home Game Slot Saturday 7:00 to 8:00am
Practices Monday 6-7pm Wednesday 6:15-7:15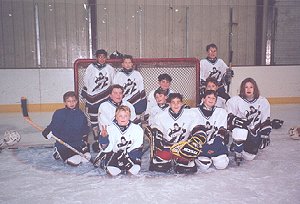 Aroostook Auto Tech Team 2000/2001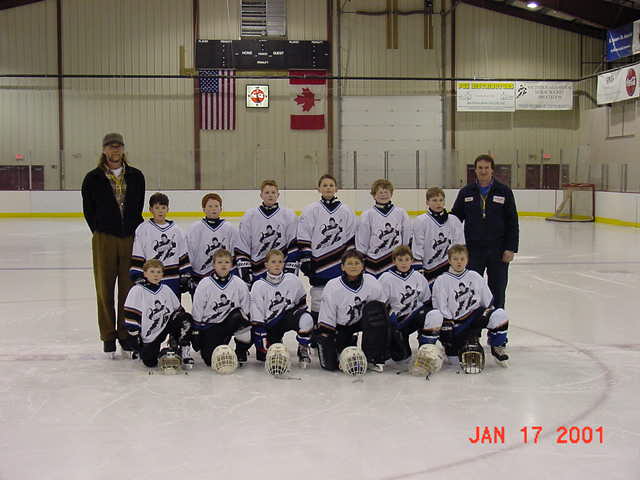 Bower's Funeral Home Team 2000/2001
A Little More Polished...Playing
More As A Team!

Novice Players Learn Early That Is Is Not Star
Individual Skaters That Win Games...It Is A
Collection Of Players..Each With A "Mission"
As A Team To Work Together To Defend The
Home Goal...Or Push For The Assisted Offensive
Goal!


Bowers Funeral
Home

BOWERS FUNERAL HOME SCHEDULE 2001/2002 SEASON
________________________________________________________

DAY DATE TIME LOCATION AGAINST SCORE

11/10 7:00AM HOULTON TOBIQUE VALLEY 2 WON 5-3
11/11 1:30PM WOODSTOCK WOODSTOK 3 LOSS 8-3
11/24 9:45AM FLORENCEVILLE NORTH CARELTON 2 WON 10-2
12/08 7:00AM HOULTON TOBIQUE VALLEY 1 WON 4-3
12/15 9:15AM NACKAWIC NACKAWIC
SAT 12/22 7:00AM HOULTON NORTH CARLETON 1
SAT 1/05 7:00AM HOULTON PRESQUE ISLE
SUN 1/06 1:30AM WOODSTOCK WOODSTOCK 1
SAT 1/19 7:00AM HOULTON SOUTHERN VICTORIA 1
SUN 1/27 1:30PM WOODSTOCK WOODSTOCK 2
SAT 2/02 7:00AM HOULTON WOODSTOCK 1
SAT 3/02 7:00AM HOULTON SOUTHERN VICTORIA 2
SAT 3/09 7:30AM HARTLAND HARTLAND

THE BOWER'S FUNERAL HOME TEAM IS....

DEFENSEMEN

CRAIG THOMAS
AARON ANDERSON
SEAN STAPLES
JORDAN RUSSELL
BEN WARD
LUCAS ANDERSON
ZACHARIA HARVEY
DANIEL COVILLE

OFFENSIVE LINES

KAMERON LINCOLN
CRAIG BUXTON
JAKE ANDERSON
NICK CHASE
SAM FITZPATRICK
SAMATHA POLCHIES

GOALIE
LEVI LEDGER

AROOSTOOK AUTO TECH SCHEDULE 2001/2002 SEASON
________________________________________________________

DAY DATE TIME LOCATION AGAINST SCORE

11/17 9:45AM FLORENCEVILLE NORTH CARLETON 2
12/01 7:00AM HOULTON WOODSTOCK 2
12/08 9:15PM NACKAWIC NACKAWIC
12/15 7:00AM HOULTON TOBIQUE VALLEY 2
12/16 1:30PM WOODSTOCK WOODSTOCK 1 WON 6-5
SAT 12/29 7:00AM HOULTON TOBIQUE VALLEY 1
SUN 12/30 1:30PM WOODSTOCK WOODSTOCK 2
SAT 1/12 7:00AM HOULTON NORTH CARELTON 1
SUN 1/13 1:30PM WOODSTOCK WOODSTOCK 3
SAT 1/26 7:00AM HOULTON PRESQUE ISLE
SAT 2/09 7:00AM HOULTON SOUTHERN VICTORIA 2
SAT 2/16 9:15AM HARTLAND HARTLAND
SAT 3/02 9:45AM PERTH/ANDOVER SOUTHERN VICTORIA 1